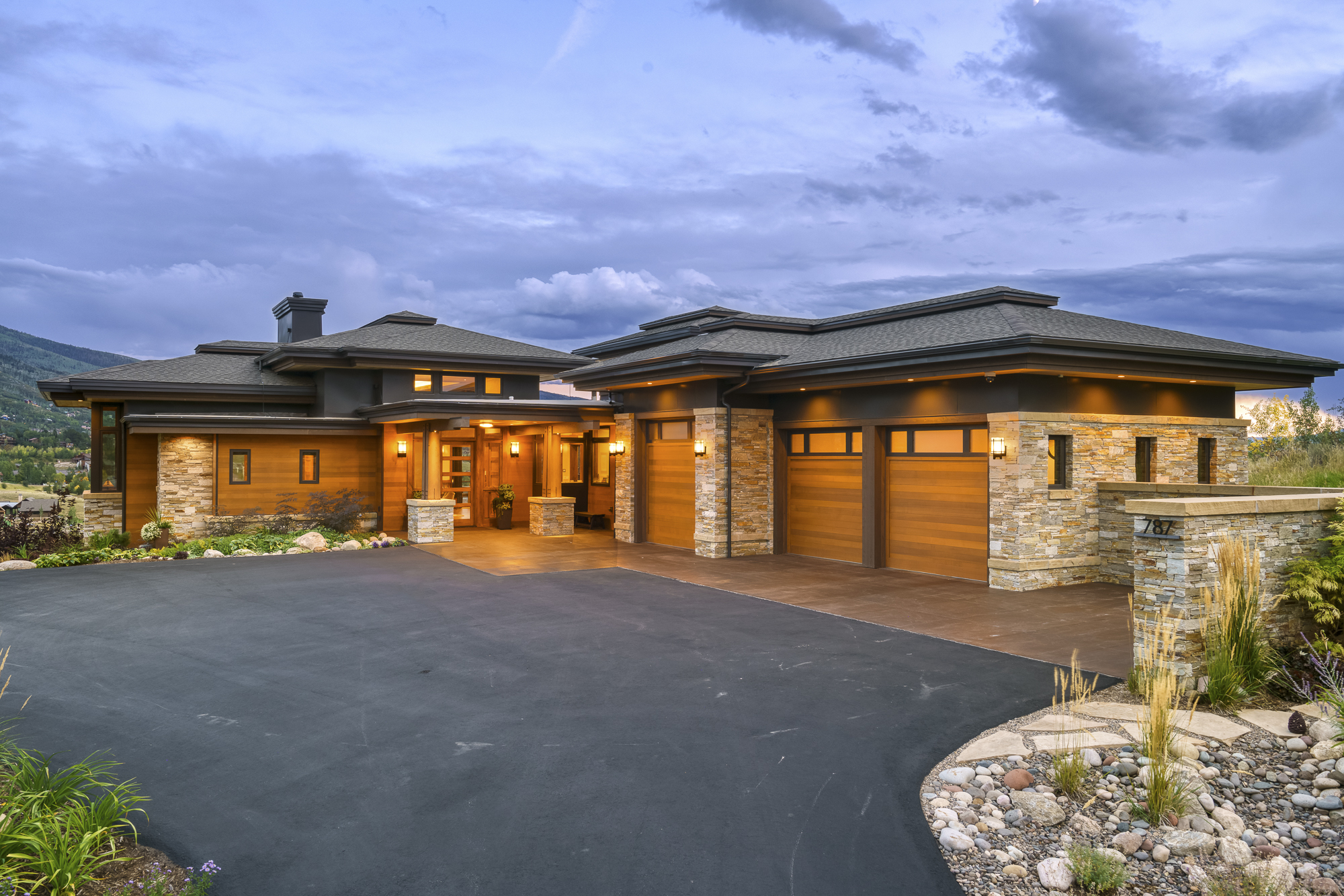 Anglers Court
Steamboat Springs, Colorado
Description
This elegant home located in Steamboat Springs, Colorado, exemplifies a unique fusion of prairie and mountain contemporary styles. At about 4500 square feet, it boasts some of the most commanding views of the Steamboat Resort and Mount Werner in town.
A window wall system in the dining room affords a blurred distinction between indoor and outdoor living space, and radiant heat on the covered patio extends the outdoor living season in the fleeting warmth of the mountain climate. The wood paneled interior, traditional fixed finishes, and hipped roof forms make a strong nod to the Wrightian vernacular seen more in the East.
Testimonial
When my wife and I started thinking we might want to build a custom vacation home in Steamboat Springs I drove around town and took photos of a number of houses that appealed to me. While I was taking photos one of the homeowners saw me and invited me into their house to look around. The homeowner said that Tim Stone with Kelly & Stone Architects (KS|a) designed the home and highly recommended I give him a call. Before calling Tim I decided to look at the KS|a website and to my surprise many of the houses I had photographed were featured on their website.
We hired KS|a to design our home but before we formalized the relationship Tim helped me to evaluate a number of vacant lots around town. Some of the lots we visited together and others he evaluated on his own, since are not residents of Colorado. Through this process Tim gained a strong understanding of what we were trying to achieve and helped us select the best lot for our needs. As we moved forward in our collaboration Tim listened to our desires and created a design that met our unique architectural tastes and functional needs. While different from Tim's past works, the final result was a mountain home that creatively merged our desire for a contemporary craftsman/prairie style home with a design that fit well into the mountain environment.

During the early stages of design work Tim sketched out a few floorplan ideas that met our functional needs and took advantage of the views. Looking back I am amazed at how quickly Tim sketched a design that was probably 90% on the mark to what we eventually built. Working with Tim and many people on his team (Jason, Luke, Adam and Tom) was an enjoyable experience, everyone was courteous and helpful. Jason Oldfather and Luke Crespin did a great job on their specific design areas. It was a pleasure to work with Tim Stone and the KS|a team to design a house that will be a home for us to enjoy for the rest of our lives.

– The Raybourns